Jersey City shooting that killed 4 investigated as 'potential act of domestic terrorism'
Authorities said they are investigating the attack as potentially "fueled both by anti-Semitism and anti-law enforce
A shooting at a kosher grocery store in Jersey City on Tuesday is being investigated as a "potential act of domestic terrorism fueled both by anti-Semitism and anti-law enforcement beliefs," authorities said Thursday.
Grewal told reporters at a news conference on Wednesday that the shooters parked across the street from the store, and seconds later Anderson exited the driver's side of the vehicle armed with what investigators believe was an AR-15.
He began firing at the market immediately, Grewal said. Graham then got out of the van and followed him inside.
What followed was an hourslong standoff and intense shootout between the police and suspects. It ended just before 3:30 p.m. when authorities used an armored police vehicle to break through the glass of the front door.
Grewal said it's believed that Anderson and Graham shot all three victims in the store "within minutes" of entering the market. A fourth person was shot but escaped and is recovering.
Both suspects were also found dead. Grewal said at Thursday's news conference that five firearms linked to the suspects were found, four inside the store and one which included a homemade silencer in the van.
Three people were found dead inside JC Kosher Supermarket after suspected shooters David Anderson and Francine Graham opened fire just before 12:30 p.m. in what police have said was a targeted attack.
The three people found in the store were Mindy Ferencz, 31, and Moshe Deutsch, 24, who were both members of the
Hasidic Jewish community
, and Douglas "Miguel" Rodriguez, 49, an immigrant from Ecuador. Jersey City Police Detective Joseph Seals was also killed after encountering the shooters in a cemetery prior to the attack at the store.
New Jersey Attorney General Gurbir S. Grewal said at a news conference Thursday that investigators found social media pages believed to belong to Anderson, 47, and Graham, 50, that "purport to espouse certain viewpoints."
Florida man died from meth overdose before he was eaten by alligator
A "methamphetamine intoxication" killed Michael Ford before the reptile tore his body apart
Authorities are conducting an investigation into the death of a man whose body was found in a canal in Fort Meade, Fla.Polk County Sheriff's office
A Florida man, found eaten by an alligator this summer, died from a meth overdose before his body was ripped apart by the reptile, according to a medical examiner's findings.
Michael Ford, 45, was found face down in a canal in Fort Meade on June 27 and Polk County Sheriff's investigators theorized he might have drowned before an alligator began eating the man's remains.
A hand and a foot belonging to Ford was found in the beast's stomach.
"It is my opinion that Michael Glenn Ford II died as a result of a methamphetamine intoxication," District Medical Examiner Stephen Nelson wrote in an autopsy report obtained by NBC News on Thursday. "The manner of death is accident."
The report took note of the "traumatic" amputations Ford's body had suffered at his left forearm and right foot. Nelson found that those injuries were likely postmortem.
"The decedent's injuries and amputations lack sufficient associated blood to suggest they were made while alive," according to Nelson's report.
News Around The World
Portis, Horn among 10 former
NFL players facing U.S. fraud charges
WASHINGTON (Reuters) - Federal authorities on Thursday charged 10 former National Football League players for allegedly defrauding a healthcare program of more than $3.4 million by filing false claims for hyperbaric oxygen chambers and other expensive medical equipment.
Former Washington Redskins running back Clinton Portis, 38, and former Redskins cornerback Carlos Rogers, 38, were among those charged by the U.S. Justice Department.
Portis, who played nine seasons with Washington and the Denver Broncos, declared bankruptcy in 2015, court records show. He sued the NFL in 2013, claiming the league failed to tell him he risked brain damage.
U.S. authorities also said they plan to file charges against Joe Horn, 47, who at one point held the New Orleans Saints' record for touchdown catches.
Brian Benczkowski, head of the Justice Department's criminal division, said the former players filed false claims for expensive equipment like oxygen chambers, cryotherapy machines, and electromagnetic therapy devices designed to be used on horses
Those devices, which typically cost up to $50,000, were actually never purchased, he said. Ringleaders of the scheme took kickbacks or bribes of up to $10,000 from other former players to help carry it out, Benczkowski said.
"By defrauding the plan and treating it like their own personal ATM machine, sadly, the defendants placed the plan's tax-exempt status at risk," he said at a news conference.
A NFL spokesman did not immediately respond to a request for comment. The NFL Players' Association declined to comment.
Researchers say former football players have an increased risk of heart disease and other health problems, related to the grueling physical contact inherent in the sport and the weight they gain to play it.
The alleged scheme targeted the Gene Upshaw NFL Player Health Reimbursement Account Plan, which was set up in 2006 to help retired players cover medical expenses and currently has about $800 million in assets. No current NFL players are believed to be involved in the scheme, Benczkowski said.
Rogers, who played 10 seasons for Washington, the San Francisco 49ers and the Oakland Raiders, was arrested on Thursday morning, officials said. Three other former players - Robert McCune, John Eubanks and Ceandris Brown - also were arrested, while the other six defendants surrendered voluntarily.
Reporting by Sarah N. Lynch, Andy Sullivan and Susan Heavey in Washington; Aditional reporting by Frank Pingue in Toronto and Amy Tennery in New York; Editing by Bill Berkrot and Matthew Lewis
Our Standards:
The Thomson Reuters Trust Principles.
GameDay is back this Saturday and we will bring you another packed day of Premier League action.
Exclusive coverage will include the Manchester derby and managerless Everton's clash with Chelsea, as well as Tottenham vs Burnley.
CAF CC: Enyimba Captain Abalogu charges mates ahead San Pedro clash
Photo credit : Enyimba utility player Andrew Abalogu via Information Nigeria
Enyimba FC captain Andrew Abalogu has implored his teammates to rise up to the occasion when they entertain San Pedro FC at the Aba Township Stadium this Sunday.
The Nigerian champions will be looking to get their continental campaign back on track after delivering a below-par performance in their Group D opener as they lost 2-0 to Hassania Agadir in Agadir, Morocco last Sunday.
The result leaves the People's Elephants bottom of the early standings after San Pedro FC and AC Paradou shared the spoils in the other group fixture.
A win for Usman Abdallah's men against the Ivorians will reaffirm the club's intention of going all the way in the second-tier CAF club's competition.
Abalogu however urged his mates to produce the level of intensity that is required to succeed at the continental level.
"It's difficult to play on the continent because the standard is higher, that's why we have to step up in our next game," Abalogu told the club's media.
"In the league you play against teams that you are used to, but on the continent it's against top teams from different countries, that's why it's more difficult.
"We had a very bad game in Morocco, and everyone is still angry about it. We know the fans will expect something better on Sunday, so we'll try our best."
Sunday's fixture at the Enyimba Stadium will kick off at 2pm.
---
---
shop

now!!!
Repeat Payments

Repeat Payments is a software that first finds
orphaned online real estate, then sends the targeted
traffic from them into pre-built subscription-funnels,
generating monthly commissions (repeat payments)
for its users. Jamie has been doing this for over
12 months, as have tons of his beta testers,
with hundreds of thousands of dollars in profits so far.
Bankers, Anayo Nwosu and Olajide Oshodi Jailed For N855M Fraud
The EFCC, on Monday, December 9, 2019, secured the conviction and sentencing of two top officials of Bank PHB (now Keystone Bank), Anayo Nwosu and Olajide Oshodi as well as Ashok Israni, an Indian businessman, to five years imprisonment each for N855m fraud before Justice Kudirat Jose of the State High Court, Igbosere, Lagos State. .
Also jailed are NULEC Industries Limited belonging to Israni and Keystone Bank Limited. The convicts alongside one Sunny Obazee were re-arraigned on October 4, 2016 on an amended 15-count charge bordering on conspiracy and obtaining by false pretence to the tune of N855m.
Suspected Fraudster, Ismaila Mompha Regains
Freedom After Meeting Bail Conditions (Video)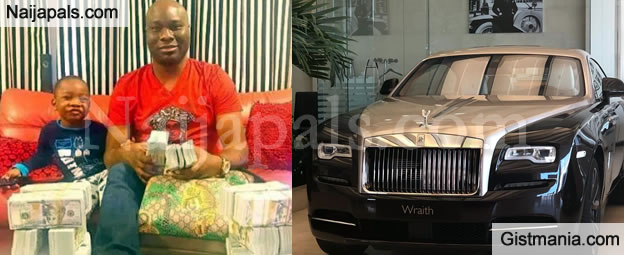 Suspected fraudster, Ismaila Mustapha, popularly referred to as Mompha, has regained his precious freedom after meeting his bail conditions.

GISTMANIA recalls the flamboyant Nigerian was earlier granted a N100 million bail after being arrested and subsequently taken to court, for alleged internet scam and money laundering.

Mompha who had been remanded in prison custody, after being arraigned by the Economic and Financial Crimes Commission (EFCC) on 14 counts bordering on fraud, money laundering, and running a foreign exchange business without the authorisation of the Central Bank of Nigeria (CBN), was on Friday, November 29, 2019, admitted to bail with one surety who must be a landed property owner.
watch video below
Having perfected those conditions, Mompha is now a free man (for now).